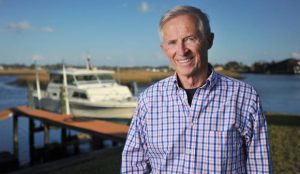 Jerry Walsh, a dashing race-car driver and racing-parts businessman who was diagnosed last year with ALS, died Friday June 23rd, 2017.
Mr. Walsh, 75, was featured in a Times-Union story in February as he grappled with the effects of the disease, commonly known as Lou Gehrig's disease.
 "It's a race to the finish here," he said, "watching your body start to deteriorate."
He said then that he wasn't looking for sympathy. There was no need for that, he insisted: not after a full life of traveling the world, making friends, racing cars and building a couple of businesses, Racer Walsh Co., which sells racing parts for Fords, and the Decal Shop, which makes heat-resistant decals for race cars.
"I've had a fantastic life," he said in the interview. "Full of fun. And almost all of my girlfriends are still talking to me. Maybe one isn't. The rest are."
In February, after 45 years as a bachelor, he married Evelyne Modeste Marie on a sunny day outside his home near the Intracoastal Waterway, surrounded by many old friends. She's a native of Madagascar whom he met on a computer dating site, which led to what he joked was "a computer date gone crazy." They visited each other a half-dozen times, in Madagascar and America, before getting married.
At that point, he said he wasn't sure how quickly his disease would progress, and noted that for some people its progress will sometimes stall. He smiled:
"That's what keeps you going, and gets you to marry a gal."
Mr. Walsh had volunteered for an ALS study at the Mayo Clinic and donated his body to Mayo for studies of the disease, his son, Brian Walsh, said. He had also organized a team for the Jacksonville Walk to Defeat ALS event in April; anyone who likes can make a donation in Mr. Walsh's name to the ALS Association Florida Chapter.
Brian Walsh said his father's life was marked by his adventurous spirit: "We were always doing stuff; if not at a race, going hiking, skiing, doing things. He was always up for things. He kind of liked to push the envelope sometimes."
He announced his father's passing on Facebook, saying that instead of a funeral service there would be a celebration of Mr. Walsh's life in one or two months. "As Jerry had many friends, this will be one helluva gathering," he wrote.
Mr. Walsh is survived by his wife, Evelyne; his son, Brian; five grandchildren and two sisters.
Written and Posted by: Matt Soergel at Florida Times Union
Welcome to RacerWalsh.com
The home of Go Fast Goodies for your street or race car.
This website is still under development, so keep checking in!
**PARTS ARE BEING ADDED DAILY**
Circle Track, Road Racing, Auto Cross, and Street Performance parts for you weekend warrior or professional team.
Take a look inside and see how quality parts and customer service can come together to help you in your endeavor to be the best!
You can Call, Email or Snail Mail us
904.721.2289 or 800.334.0151
1849 Foster Drive, Jacksonville, Florida 32216.